usb connection might create noises.
connect your OP-Z without charging by holding the screen button + mute step. yellow led lights will confirm it is disabled.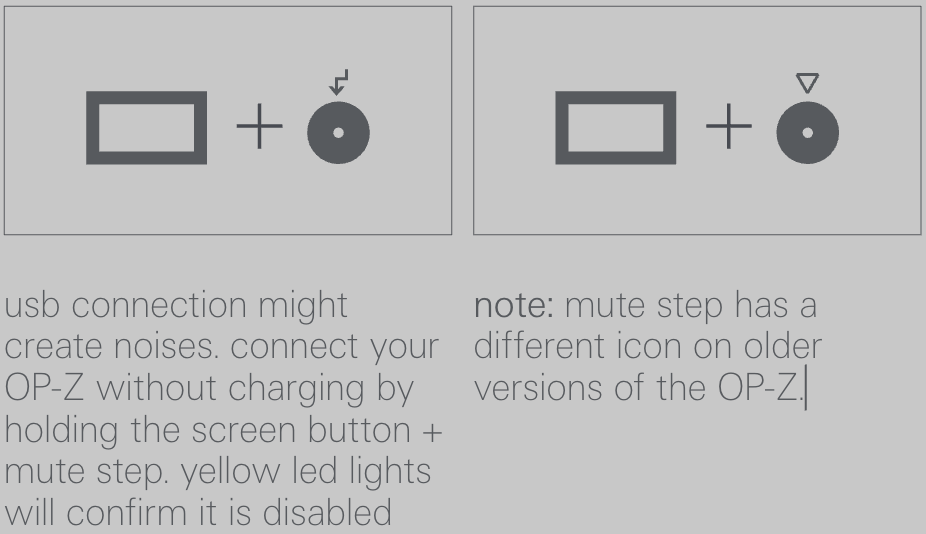 the noise is caused by ground-loops (when current flows in usb or audio cables caused by ground voltage differences). bare in mind here that it's still quite unusual with synths that are bus-powered (i.e only via usb, no external ac/dc adapter). this sometimes causes problems as any current drawn from the computer will result in the return paths finding their way through the audio-cables (that normally has more copper/gnd than what's inside a standard usb-cable). so since the CPU/DSP or any other IC drawing current, this might promote throughout the audio setup.
The best cure which normally works is to review all wiring (mains power, usb, audio, sync/midi and such).
make sure that it all starts with one single point of power (i.e. mains to mixers, usb-chargers, laptops and such). Then try and power all bus-powered units directly from a wall-charger (not a computer if usb-midi is not needed). in case a computer running a DAW is in the mix, a laptop with a switch-mode ac/dc usually works fine even when both audio & usb is connected.
other things to try is to use as short as possible quality usb-cables. make sure MIDI (if 3.5mm) is actually isolated in your setup. vendors selling equipment missing the mandatory opto-coupler on their midi inputs.
if you still have noise. we usually go for a passive line-level transformer to get galvanic isolation where needed. Most of the time it's enough to isolate just one of the synths in the setup, move the audio-isolator around to find the place where it works best.
power and wiring on live-stages are usually a nightmare, already very noisy… Here we usually go for those Li-Po battery packs with multiple USB jacks to power op-z's and any other usb-powered synths on stage. This works really well and is usually enough.
When none of above works… Go for isolation!
USB Isolation
"HiFimeDIY high-speed USB isolator" is supposed to be a good USB isolator.
one of few that can do the combo of high-speed usb (480mbit) & high charge current.
(the non high-speed works as well and has a lower price)
This is sometimes easiest if there is higher pitch or random noise showing up as soon as the usb-jack is connected to the Mac/PC… Benefit here is if you use a hub which connects to multiple devices that all are USB-powered + some sort of audio input or output, an usb-isolator is usually the best pick!
Audio Isolation
An audio-transformer will help resolve noisy setups as well, sometimes this is the preferred way as there could be unwanted noise coming through the usb-cables from computer monitors or other connected computer peripherals…
There are low/mid-range ones like "Monacor, FGA-35" for $15. This is gonna be cheaper than isolating usb.
If you have budget, invest in a few premium transformers from Lundahl or Jensen.
Lundahl has their problem-solver range, like "SIB15" which is really good.